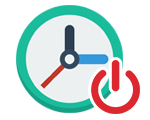 Simple Way to Auto Turn Off Windows
Windows Shutdown Assistant enables you to turn off Windows automatically in various modes. You are allowed to set the time to turn off the computer. Or, just configure settings to let computer shutdown when power off, over heat, or idle over a period of time. It only requires two steps to do so - select "Action" and "Event", then the program will do the rest for you.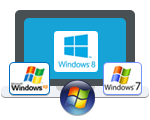 Support All Windows Operating Systems
The software works well on all the Windows operating systems which include Windows 10, Windows 8, Windows 7, Windows 2008, Vista, or Windows XP, and it is available for managing your computer, at any time.
Schedule to Run a Program or Open a File
Windows Shutdown Assistant supports you create tasks to open files, URLs or launch programs automatically. By utilizing this function, you won't forget the important events anymore. The software will prompt you to work on a document or check a website at specific time. It's convenient to create several tasks to perform specified actions for the whole period in a day, improving your efficiency greatly.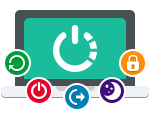 Multiple Functions to Manage Windows Tasks
With this program, not only does it let you schedule shutdown Windows, but it can also execute other tasks like log off, restart, power on or hibernate your computer, and more. All of these functions will help you manage your computer. After adding the tasks, you can move, delete, clear or edit them in the task list at any time. Before carrying out the tasks, the countdown window will pop up on your desktop to notice you. In this case, you can perform or delete the task immediately.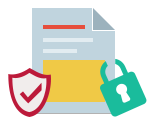 Secure Computer Files and Data
You are allowed to lock your computer and prevent others using it during your absence. Just set the time and password, and then the machine will require password in the period set by you. Any users will have to enter password when login to your computer. People without authorization will never have the chance to browse your computer or steal the precious data and files.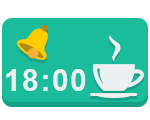 Used as a Visual Break Reminder
It's easy to forget the time and place when you're concentrating heavily on your work, but this can affect your health. Windows shutdown Assistant also works as a Break Reminder software to remind you when it's time to take a rest. You are empowered to edit prompting words and sentences at will, it's easy to edit colors, add images or sounds to remind you.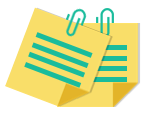 A Good Helper to a Busy Man
Sometimes, you're occupied with works when working on computer and may easily forget some important events. With Windows Shutdown Assistant, you can let your computer auto-display messages on desktop at a specified time and create a note as a reminder. The reminder will show in full screen or popup window.
News
Follow us
Related Articles
More Resource