Solutions to Download Songs from Saavn Flawlessly
Saavn.com is a site that contains the widest selection of Hindi music on the web. This is where you'll have access to millions of tracks, playlists, albums, as well as movie soundtracks. Those who are into this type of music genre would like to download Saavn Music so they can play the songs even without signing in to the site. There are several ways on how to do this and we will discuss three of them in this article.
Efficient Methods to Download from Saavn
1. Download Saavn Songs Online
One of the methods to download music from the site is by using an online tool called Apowersoft Free Audio Recorder. Aside from being cost-free, it requires no installation. The steps to download Hindi music on Saavn are easy to follow. Here they are:
Go to the audio recorder webpage to access the tool.
Click the orange "start recording" button.
Go to Saavn and play the music you wish to download.
Click the "record" button on the audio recorder.
Click "stop" once done.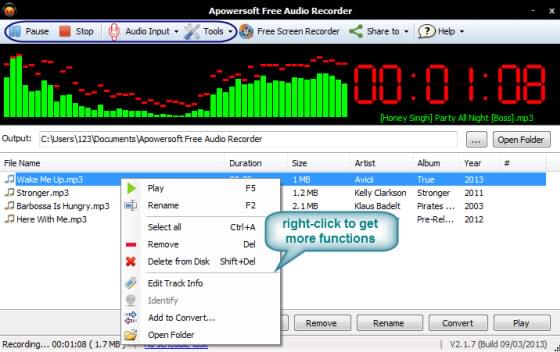 File recorded this way will be saved in mp3, which is the standard audio format. Right click on the song under the download list to have access to more options including play, rename and open folder.
2. Powerful Saavn Downloader
The second tool that we have on our list is Streaming Audio Recorder. Unlike most audio recorders, it also comes with a wide range of features covering audio recording, audio converting, CD burning, audio editing and many others. Thus it's no wonder that it would be the best option for downloading songs from saavn. Since it's a third-party software, so you should install it on PC in order to download music from Saavn.

After you have installed this saavn downloader to your computer, just play the music you want to record on saavn.com and click the "on" button of this recorder to start your recording. Then hit "off" button when you want to stop recording. With it, you can record music or soundtrack at any length without limitation. After getting some nice Hindi songs from the site, you can choose to store songs into CD disc within the built-in CD burner.
3. Saavn Pro Mobile App
The last option that we will discuss is Saavn Pro, a mobile app which is available for both iOS and Android devices. The price is $3.99 at the time of writing. This mobile application lets you listen to Saavn music while on the go as long as you are connected to the Internet. It also gives you the download option, so you can pull off all your favorite music from the site and listen to them offline in case you are having problems with your signal.
Simply tap on the "cloud" icon next to the song you wish to download and it will be saved on your device. You don't need to use other tools like card readers, cables or PC with this method as music from the site will be automatically saved on your phone once download is complete. It also doesn't come with advertisement so you can enjoy using the app to the fullest.
Compare the Ways to Download from Saavn
After taking a look at the three methods for downloading music from Saavn, we can conclude that the best application depends on your needs and preference. If you would like to free download Saavn music, then Apowersoft Free Audio Recorder would work best for you. However, if you do not mind to spend a little amount for more features, go for Streaming Audio Recorder. These two methods are applicable to your computer. If you are looking for an application that you can use on your mobile device, Saavn Pro is the top contender.
Solutions to Download Songs from Saavn Flawlessly

,
Follow us