Missing Registration Key
Retrieve the key code if you're encountering one of the following:
The key code of the product you purchased is lost.
You already purchased the program, but didn't receive the key code.
For All Apowersoft software users, please get your key code through All Apowersoft Registration Manage.
Online Help

We suggest you read online user guide before using all our software.
Sometimes, the questions have already been answered before you ask them! We recommend you read this before looking in the other sections for help. Quick link for questions users most frequently asked about Apowersoft products.
Customer/Technical Support:

If you can't send large file or screenshots to us through mail, you can upload to our FTP. Learn how to upload to FTP.
Online Form Support

Please read related FAQs & Troubleshooting articles in the site and download the latest version from Download Page before contacting support.
If the solutions listed under Online Help do not match what you are looking for, please submit your request via the online form, and get a quick response (within 1 business day) from our support team.
Describe the problem in details and mention which product you are using so that we can better help you.
Video Testimonials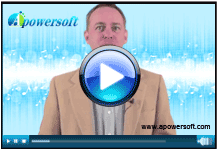 News
Editor's Review
Safe, Trusted and clean software to help you record, download , convert Streaming video, tv, music for your digital devices.
Join Our Newsletter
Subscribe to Our Newsletter (tips, new releases, specials),Privacy Guaranteed!