Top 3 Software to Record Windows 8
Windows 8 offers a number of new personalization options which make Windows one of the most personal operating systems. And screen recording is a great option when you want to record on-screen activities that you perform on your computer. Typically, users record their screen to create instructional videos on how to use a particular program, to provide tips and tricks in playing a certain game, and to prepare presentations. Listed below are three recommended screen recorder for windows 8 that you can use.
The Best Screen Recorder for Windows 8 Computer Screen
Apowersoft Free Online Screen Recorder
Apowersoft Free Online Screen Recorder is a free online application for screen recording that's highly rated by many users. You don't have to download anything because it's a web-based application. You'll find a large, conspicuous "Start Recording" button on the home page that instantly starts recording your computer screen with a single click.
Record Windows 8 screen with exceptional quality
Simultaneously records both audio and video
Capable of recording audio separately – which comes in handy if you prefer to record the sound only
Records all or part of the screen through Custom-screen mode and Full-screen mode
Records audio and video from Skype and G-Chat through Webcam Capture mode
Converts videos to different formats
Price: Free
Time Limits: No
Size: Web-based, take up no disk space
Additional Function: Screenshot, Edit, Convert
This application also works on Mac computers free of charge. There's no limit to the number or length of video that you can record so you can certainly come back for more screen recording. Since it offers powerful features and produces high-quality videos for free, Apowersoft Free Online Screen Recorder can be considered as the best screen recorder for your windows 8 screen.
The following steps will show you how to use this online application to record Windows 8 PC screen for free.
Step 1: Go to Apowersoft Online Screen Recorder's page.
Step 2: Click the orange button named "Start Recording". This way, you will use screen recorder online for free. But you can give a free trial of the desktop version by clicking the download button on the right side.
Step 3: After finishing the initializing process, it will pop up a free screen recorder with friendly user interface. You can preset the audio input resource according to your actual situation.
Step 4: Choose one recording mode under "Record" button. It offers "Region" (to record customized area as you want), "Full Screen" (to record the entire screen activity), "Web Camera" (to capture your streaming camera video) and so on.
Step 5: Start Recording. If you want to end the recording, simply click "Stop" tab on the task tool bar.
Many users are inclined to choose software version, rather than the online application. The software version with advanced performance is also available to download from below.

Bandicam – Compact and Cost-Effective Screen Capture
Bandicam is a video capture software that's designed for recording games. You need to download the program and register so you can access the full version. It lets you record Windows 8 screen as you play your desired online game.
Great at recording games particularly Minecraft
Works well on recording games that use OpenGL or DirectX graphic technology
Shows the number of frames per second (FPS), and allows you to save the statistics
Price: $39
Size: 8.5MB
Additional Function: Screenshot
For online game players who want to record their gameplay, Bandicam is a viable choice. However, the main drawback is that the software doesn't record audio. Also, some users complain about the poor video quality.
Camtasia – Comprehensive Screen Video Capture
Camtasia is a paid Windows 8 screen recorder that offers diverse functions. There are separate downloadable programs for Windows and Mac. It's great for editing and personalizing screen recorded videos.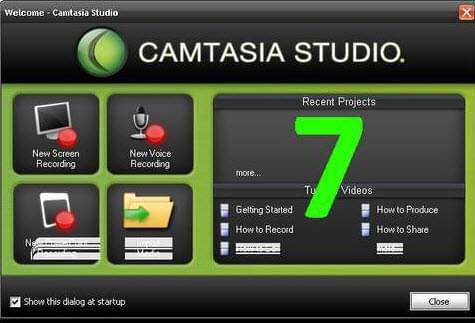 Lets you record your screen on Windows 8 and personalize your video
Offers different themes and animated backgrounds
Imports videos, images, and music to enhance your video
Sends your video to YouTube
Price: $199
Size: 238.7 MB
Additional Function: Screenshot, Edit, Convert
Basically, the application does its job well but the prices are just too expensive, ranging around $200 for the basic bundle plus another $90 for upgrades.
Camtasia is a good option if you're willing to shell out money to use a dependable Windows 8 screen video capture program. Fraps is a screen recorder specifically designed for capturing online gaming but you'll have to sacrifice quality. If you're looking for a completely free solution that provides top quality videos and useful features without letting you pay for anything, Apowersoft Free Online Screen Recorder is best recommended.
Top 3 Software to Record Windows 8

,