How to Make a Minecraft Video
Minecraft is a sandbox game that is available on computers, Xbox and mobile devices. Players can build their own world using blocks and various resources, which can be found around the game environment. You can also play on the worlds created by other players. There are hostile creatures that you need to avoid or defeat. Plus, you also need to take care of your health and replenish your hunger meter. A lot of players make Minecraft videos to show their gameplay to their friends, while others do this for the purpose of tutorial.
If you are one of the many Minecraft enthusiasts, you too can create your own video for the game. There are several tools that you can use to make this possible. Here are four of the top applications that you can try to create videos for the game.
Top Four Tools to Make Minecraft Video
Tool 1: Apowersoft Free Online Screen Recorder
This is a must try tool, especially if you are looking for something that does not require installation. Apowersoft Free Online Screen Recorder is a web based application and all you need is your web browser and Internet connection to use it. The interface is straightforward so you would immediately know what the options are for when you see them. This is perfect for everyone even for those who are not tech savvy or those who have no experience on how to make a Minecraft video.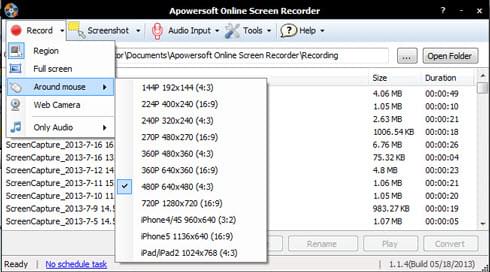 Once on the page, click on the orang Start Recording button and the application window will show up. If you wish to capture the system sound, record sound using the microphone or both, click on Audio Input and select your choice. Click Record and choose if you wish to record the whole screen or a specific region only. Open Minecraft and go back to the program. Click the start button to begin recording. You may also pause and resume anytime you like. Click stop once done with recording the game video. This tool also lets you get a snap of your screen.
Tool 2: Fraps
Fraps is also used as a video capture application, which comes with a screen capture feature. However, the free version only lets you record up to 30 minute videos and they come with watermark. Even if you use the premium version to make a Minecraft video, the file size of the output is large so it would take much of your computer space. Furthermore, this may also cause the computer to lag.
Tool 3: Bandicam
This tool comes with a free version that lets you record Mincecraft video or anything on your screen, though it is only limited to up to 10 minutes. You can capture the full screen or just a certain area you desire. If you want to get unlimited duration on your video, then you need to get the premium application. However, some users experience audio problems, as well as black screen on their recorded videos.
Tool 4: Hypercam
This can be used to create a Minecraft video as it can capture anything on the screen. You may also select a specific portion of the window to record. It has a simple design that is easy to understand and it also lets you create short cut keys for easy use. While you can get it for free, there will be a watermark on every video that you make and you will be asked to register the software each time you open it. Also, a toolbar is automatically added on your browser when you install the program. Plus, the program has stability problems and users often experience their video and audio being out of sync.
While all these applications can be used for creating videos for Minecraft, the best choice is Apowersoft Free Online Screen Recorder. It does not require installation, it's reliable, easy to use and it lets you record as many videos as you want without limit on the length. Fraps have time limit and the other two applications have problems with stability.
How to Make a Minecraft Video

,
Follow us