Contact us
If you need our technical & customer support, or have a question or problem about any of our products, please visit our Support Center. If you cannot find the solution there then please use Online Support.
For specific questions please contact the following departments:
Customer/Technical Support: Contact Support
Business Cooperation: Interested in reselling, distributing Apowersoft products, and other partnership or business opportunities, Please contact us through:


APOWERSOFT LIMITED
UNIT 04, 7/F BRIGHT WAY TOWER NO 33 MONG KOK RD.
Hong Kong
Video Testimonials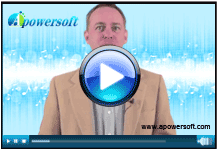 News
Editor's Review
Safe, Trusted and clean software to help you record, download , convert Streaming video, tv, music for your digital devices.
Join Our Newsletter
Subscribe to Our Newsletter (tips, new releases, specials),Privacy Guaranteed!